About Kolorit
Sizzling Latin and heartfelt Nordic vocal music.
The group's repertoire is both engaging and unique, comprised of a combination of Latin and Nordic choral arrangements. Argentinian tango, Cuban Son, Danish folk music, and Swedish traditionals. The repertoire aims at merging Latin rhythms and sounds with new, exciting interpretations of our own, Nordic musical heritage.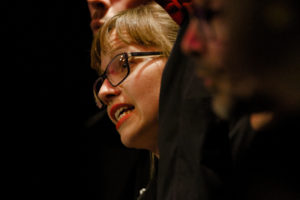 Kolorit consists of 18 singers and the conductor, Niels Græsholm. The vocal group performs with no sheet music in hand, and sings in the original languages, whether they be Cuban, Argentinian or Venezuelan Spanish, Danish, or Swedish.
Kolorit has won international acclaim and prizes at several choral competitions, and has represented Denmark at choral festivals all over the world.
Photo: Anders Lund, Giant Steps
Conductor Niels Græsholm
Kolorits Conductor, Niels Græsholm, is a sought after instructor, coach, arranger, and composer, specialising in jazz and ethnic music. He teaches choral direction and arranging at the University of Copenhagen. He graduated from the Royal Danish Academy of Music having studied pedagogy in music, and graduated from Musikhögskolan in Gothenburg, where he studied choral pedagogy. He has also studied jazz and Latin music in New York.
For more information contact Niels Græsholm on email